How to Avoid Burnout From Chatting Online
How to Avoid Burnout From Chatting Online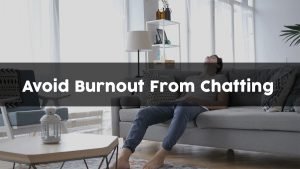 When you choose to use chat rooms for entertainment, you may become very involved in the online chat community. You might become a frequent user who goes into a chat session with gusto. However, if you chat too much you might become what is known as "burned out." This just means you have been working too hard to build up your reputation online to the point where you don't even feel like chatting online. Follow these tips to avoid burn out while chatting.
---
1. Keep Track Of Time
One thing that gets people burnt out on chatting is simply doing it for too long. Your muscles get stiff, your back hurts and you may even get carpal tunnel syndrome. So, it's best if you do something that helps you to keep track of the time. Some people like to set an alarm for 30 or 60 minutes so that they have a good reminder to stretch out or stop chatting to take care of their real-life responsibilities. If you don't do this, you might chat for too long and get burned out! Other people put it into their personal calendar to make sure that they schedule a time to chat, but not too much.
---
2. Take Precautions to Stay Safe
One thing that makes people feel burned out online is when they face a threat to their safety. How can you avoid this? First of all, do not share too much information about yourself. Don't share your address, your work location, or any other personal info. However, even sharing stories about your life too quickly can make people lose interest with you, especially if you never ask people about their own lives.
---
3. Don't Let One Bad Chat Ruin It
If you have one bad chat experience, don't let that make you eschew all online chatting. Just leave the computer and come back the next day to try again. The important thing is to maintain a balance between positive experiences both online and in real life so that you can look forward to things in both spheres. If you get too involved in one or the other, you may get burned out in any area of life. Keep chat as a great resource for you to take a break from the hassle of everyday life and relax. Don't let it become something too stressful or negative. If you pay attention to how you are feeling when you chat you will have a great time overall.
---
About The Author. — Loldudes is an expert in communication and contributor to Joingy, a chat app to meet strangers. Visit their Official Blog for guides on similar chat topics.