3 Advantages of Wireless Keyboards for Chat Rooms
3 Advantages of Wireless Keyboards for Chat Rooms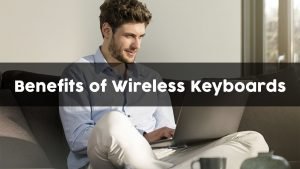 When you go to a chat room, you are there to have a good time, relax and make new friends. However, spending too much time at a computer can be bad for your posture and back. If you are sitting at a desk and trying to relax, you might start slouching and that can lead to some problems. However, using a wireless keyboard can help you get comfortable while you chat, and reduce the likelihood of posture based injuries from chatting too much while sitting at the computer.
---
1. Sit Comfortably at a Computer
It's important to learn the proper posture for using a computer. If you are using a laptop, it's ideal to get a Bluetooth keyboard because you want the screen to be at eye level so you don't hunch over and put pressure on your lower back. The keyboard should be at a comfortable height where you don't have to scrunch your shoulders too much to reach the keyboard to type. The best place to use a laptop is either at a desk with a keyboard tray or on a table where you set the laptop on a stack of books and have the keyboard at table height.
However, sometimes when you are chatting you just want to be comfortable. If it's just for a little while, it's totally fine to recline when you are using a wireless keyboard. You can lay back on your bed, your couch, or your favorite easy chair.
---
2. Easy Chat Transitions
When you use a wireless keyboard it's very easy to transition from one thing to the next. Say, for example, you are in bed. You can easily roll over and go to sleep if you are using a Bluetooth keyboard. If you are about to watch a movie, you can chat from the couch while the opening credits are rolling and then sign off without having to get up. You could even chat from the toilet or the bath if you're so inclined!
---
3. Become Fully Immersed
If you use a wireless keyboard you can become fully relaxed. You don't have to worry about being uncomfortable. Instead, just enjoy your time chatting from whatever position interests you. Also, try talking while you are doing other things, making it even more convenient. Not to mention, you'll never miss an important statement or moment with a wireless keyboard!
---
About The Author. — Loldudes is an expert in communication and contributor to Joingy, a chat app to meet strangers. Visit their Official Blog for guides on similar chat topics.